Israeli currency is called "New Israeli Shekel" commonly called Shekel and is also used as a legal tender in the Palestinian territories of the West Bank and the Gaza Strip. The abbreviations are both NIS and ILS. The currency symbol is ₪ and typically appears after the number. For example 20₪, 50₪, 100₪ and 200₪. Many times you will also see in English 20 NIS, 50 NIS, 100 NIS, and 200 NIS.
Israeli Banknotes and Coins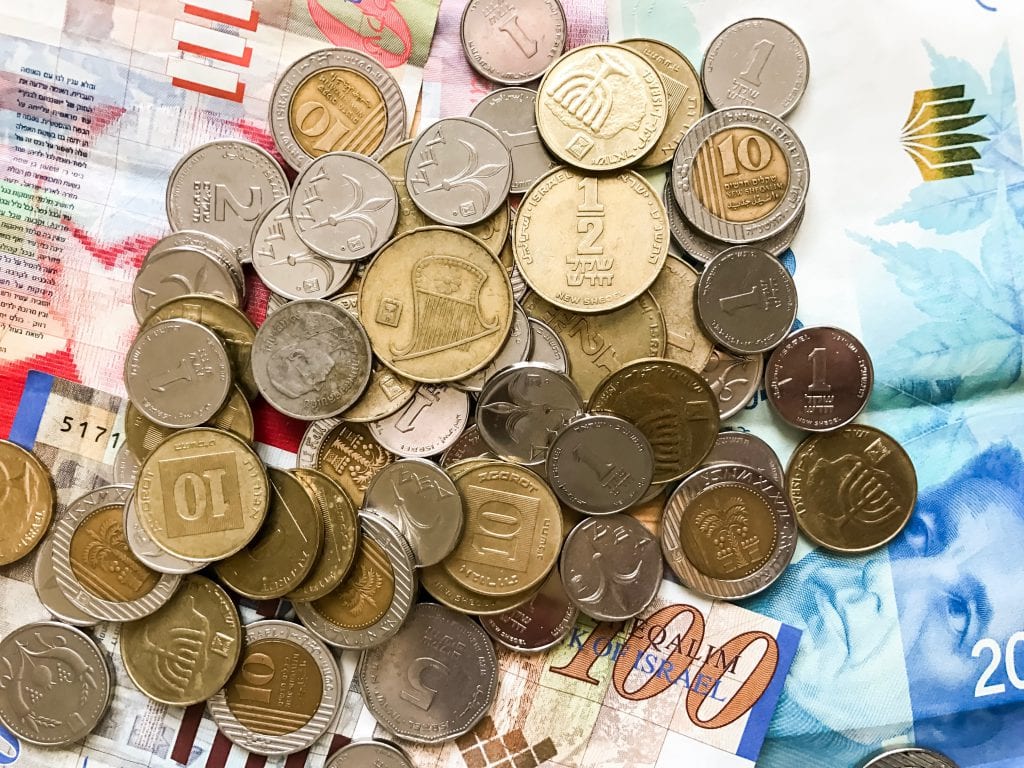 The different denominations of Israeli currency start with 20 and continue with 50, 100 and 200. All in different colors so as not to get confused. The bills are a bit wider than the US currency and a bit longer than the Euro. Israeli coins come in 1/10 of a shekel, 1/2 of a shekel (called 10 and 50 Agorot) 1 shekel, 2 shekels, 5 shekels, and 10 shekels as seen above.
Exchanging Money in Israel
Some prefer to bring Shekels with them when they travel to Israel however you will get a much better exchange rate here in the country. There are many money exchange places in the main tourist areas – Tel Aviv, Jerusalem, Netanya, Haifa, and Eilat. Make sure to have your passport to exchange foreign currency for shekels. This will be cheaper than exchanging at your home back or at the airport.

Credit Card & ATM use in Israel
Credit cards like VISA, MasterCard and American Express are widely accepted in Israel. Just remember to notify your credit card company that you will be traveling abroad to avoid fraud alerts or holds being put on your account. ATMs are widespread and many will accept foreign credit cards, making it easy to withdraw money rather than having to carry around a lot of cash either in dollars or shekels.