GET TO KNOW THE STATIONS FRom THE inSIDE
Did you know that there is a High-Speed Train connecting Tel Aviv and Jerusalem? In only about 30 minutes you can arrive at the Jerusalem station – which is 80 meters underground, making it one of the deepest railway stations in the world.

In this article we will bring you along a ride from Herzliya to Jerusalem and show you some of the Train Stations that you will pass by in great detail. Buckle up and get ready for a virtual tour through the stations of Herzliya, Tel Aviv HaShalom, Savidor and HaHagana and Jerusalem Yitzhak Navon – along with exclusive details, tips and useful information for your trip. Are you ready for your journey?
Tel Aviv is home to a few Railway Stations and while they are built in a similar concept, each of them is special in their own way. To help you get around the stations quick and stressfree, this guide will include the most useful information for your trip!
For more interesting spots and tours, feel free to check out some of our IsraelRail day trips!
TEL AVIV HASHALOM
Tel Aviv HaShalom is not only conveniently located in a walking distance from the famous Sarona Market, but also it is connected to one of the biggest shopping malls in the city: the Azrieli Center – offering various options of delicious food and different clothing stores and shops to spend some time and get some souvenirs while waiting for your next train. You can even enter the stations through the mall, as both places are connected through a bridge! Of course you have two more entrances to enter the Stations outside of the shopping center as well.

Those arriving from the south direction at the Tel Aviv HaShalom train station, don't even have to cross the busy HaShalom Road and waste precious time at the zebra crossing.
Station opening hours

Sun-Thu: 04:45 – 00:15 Friday: 05:00 – 15:30 Sat' Night: 19:00 – 00:30
ENTRY
After you successfully passed the security check, you will need to present a ticket or your Rav Kav to one of the ticket machines be able to enter the Station and platforms inside. This is the case in all of the other Stations as well, so after doing it once you will be well equipped for the other times.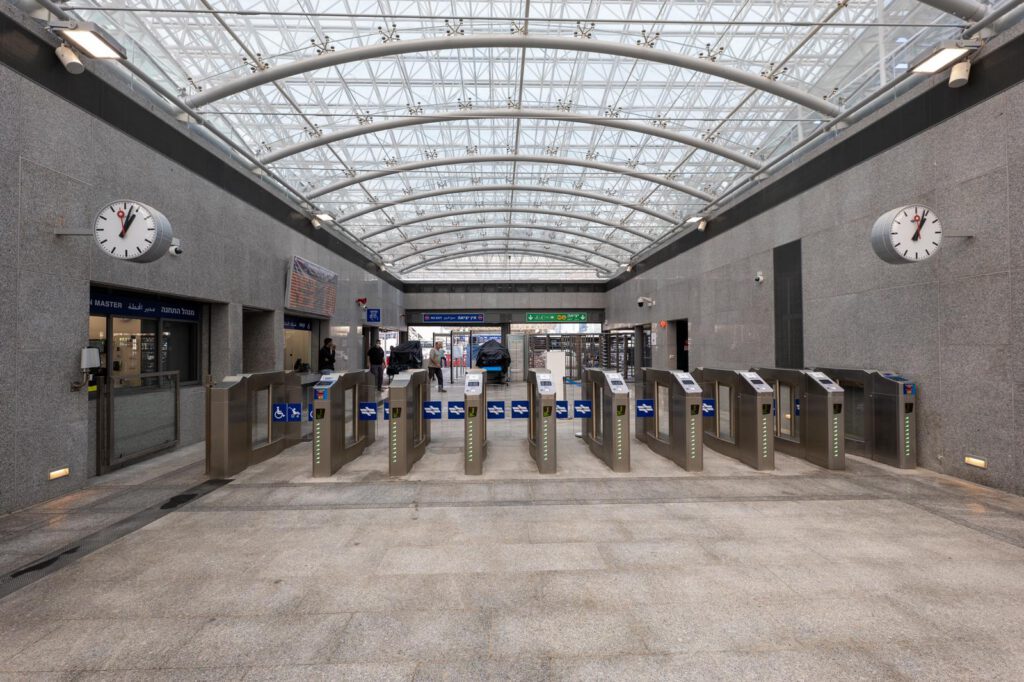 Tickets can be purchased at the machines at the entrance – which offer many language options and include the option to pay with credit card – or at the service points, which are windows right next to the entry as well.
ENTRY HALL
After entering th station sucessfully, you will be greeted by a bright waiting hall with beautiful coloured windows, that bring a nice atmosphere to the station. This is also the case because of the many plants, that are next to the seats and give the building a feeling of openness and freedom to move. The platforms are located downstairs, meanwhile in the big hall there are many options to sit, charge your phone, a Café for snacks and a few little shops – making your time waiting quite pleasant.
WHILE WAITING
Every station offers a Café (in Jerusalem even multiple), where you can get your fix of coffee, so that you will be well prepared for your journey. Usually you are also able to get a variety of delicious snacks there, like different kinds of sanwiches and pastries.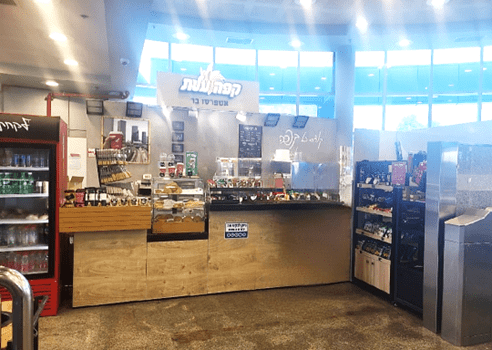 BOOKS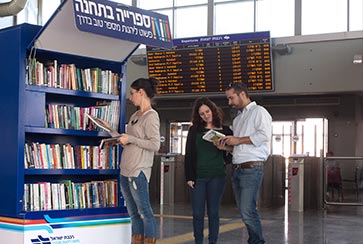 "Library at the Station" is a free book lending service at the train stations. This service simply allows you to read and enjoy the wait at the train station and while traveling on the train. It is also possible to borrow books at one station and return them at another station.

To borrow a book, simply choose and take a book from the wide variety of books that are found at the Library. When you finish reading, you are welcome to return the book to one of the libraries or collection boxes at the stations.
CHARGING
In case you needa quick recharge for your phone, the stations got you covered: nearly all of them offer phone chargers in the waiting areas. Not only can you put your phone there and charge it with one of the attached phone chargers, that are compatible with most phones – but they also have the option for inductive charging on the top of it. How convenient!
HELPFUL TIPS
Security Check
Entry to all train stations is subject to a personal baggage check. At the entrance to all the Israel Railways train stations are security guards operating according to the instructions of the Israel Police and are committed, during the security check, to afford maximum respect for your safety and security. In the morning between 6 am and 9 am, and in the afternoon between 3 pm and 7 pm, there may be a congestion at the inspection points, so it is important that you arrive at the train station some time before the departure of the train.
KEEP IN MIND
There are no trains operating on sabbath and jewish holidays. You might want to take a Bus instead.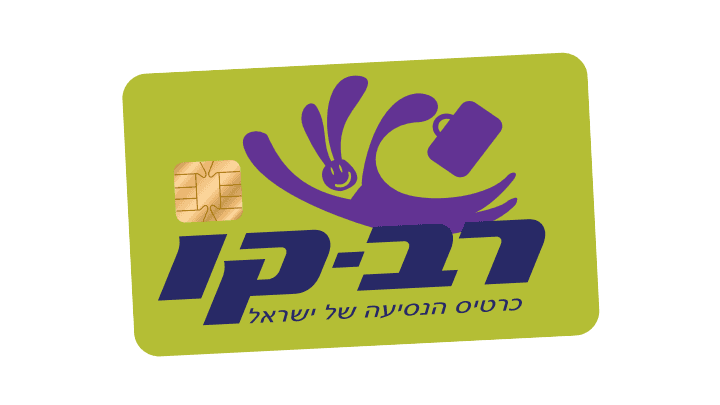 RAV KAV
The Rav-Kav is a smart card used as the main form of payment for public transportation in Israel. It can be used to take the train or bus.Visitors have the option to buy an anonymous card, which doesn't require personal information and be purchased for a one-time payment of 5 NIS.

WHERE CAN I PURCHASE IT?

You can purchase your card at any one of the Tourist Information Centers, the train stations, and the airport. Buses also offer the option of purchasing a Rav-Kav on board for 10.90 NIS.

HOW DO I LOAD MY RAV-KAV?

You must load your card with money before boarding. This can be done using the "HopOn" and "Rav-Kav Online" apps (NFC supported devices only). There are also loading locations available throughout the city, including Tourist Information Centers and designated stores and kiosks. A card can be loaded with as much as needed.
.