EASY TO ACCESS ATTRACTIONS IN ISRAEL
Israel truly offers optimal conditions to experience the country by train: near most train stations there are numerous attractions, museums and sights, that not only make planning and organization a lot easier – they are also often affordable and offer a spectacular trip, no matter how the weather might look like that day. Just as diverse as the country itself, there is something appealing for every taste. For Arts and Culture Enthusiasts and those who want to become it, we have put together some Must-sees, that you will remember for a long time. And the best part: you can simply hop on a train, get off, and in less than 15 minutes you can walk to your destination! Enjoy!
For more interesting spots and tours, feel free to check out some of our IsraelRail day trips!
Tel Aviv
NEAR HASHALOM: MUSEUM OF ART
Located nearby the train station Tel Aviv HaShalom you will find the famous Tel Aviv Museum of Art, which, in addition to its impressive architecture, attracts with a number of different, temporary exhibitions, which include the highlights of modern art. Additionally it features a permanent rich collection of art; including European works from the 16th to 19th centuries, Impressionism, Post-Impressionism and 20th-century modernism. You can see the works of Cezanne, Chagall, Dali, Monet, Henri Moore, Auguste Rodin, Archipenko and Picasso, among others. Lean back and relax in the highly recommended café in the inner courtyard, where you get a fantastic view of the sculpture park. The museum opened in 1932, so it was there even before the establishment of the State of Israel. If you are planning to visit only one traditional art museum in Israel, the Museum of Art is the ideal choice. The museum is also open on Saturdays and also offers many exciting attractions for children. Regular tickets are available for 50 NIS, there are also discounts, for example for students and seniors.
Opening times:
Sun: Closed
Mon: Closed
Tue: 12:00-18:00
Wed: 12:00-18:00
Thu: 12:00-21:00
Fri: 10:00-14:00
Sat: 10:00-18:00

Opening hours may change. For more information, look at their website.
Near TEL AVIV UNIVERSITY: PALMACH MUSEUM
Of course, in the legendary "white city" there is a huge selection of cultural sights that are worth a visit. That's why the Palmach Museum near Tel Aviv University made it into our selection. It is only a 15 minute walk from the Station Tel Aviv University. The Palmach, an underground arm of the Haganah (a Jewish paramilitary force that predates the Israel Defense Forces), was formed in 1941 to secure a Zionist settlement in what was then Palestine. Today, the innovative Palmach Museum transports visitors back in time with multimedia experiences, a photo gallery, an archive library and a memorial, thus creating an interactive monument. The Palmach Museum treasures and appreciates the legacy, members and values of the Palmach and traces the origin of today's IDF and the State of Israel's path to independence. A true Must-see for any Lover of History! Please note, however, that you must reserve in advance, as a visit is only possible within a guided tour. Children are permitted to enter from the age of 6 years.
Opening times:
The Museum opening hours: Sun, Mon, Tues, Weds, Thurs, Fri – By pre-arranged visits only!
For more information and to make a reservation, look at the website of the Palmach Museum.
Rehovot
Weizmann-House
Just a 12-minute walk from Rehovot Hadar Station, this historic house – built in 1937 – offers a glimpse into the past at one of Israel's leading research institutes. The Weizmann-House is the former home of the scientist Dr. Chaim Weizmann, Israel's first president and his wife Vera. Here you can see the architectural imprint of Erich Mendelsohn, an East Prussian-born architect most commonly associated with Modernism, Expressionism and the International Style. Please take into account, that also here you should make sure to make a reservation in advance. You can also purchase a combo ticket at the Weizmann Institute's Levinson Visitor's Center, which includes a self-guided tour of the Weizmann Institute of Science (this also includes the Clore Garden of Science). The combined ticket costs 40 NIS/pp and is very worthwhile.
Opening times:
Sunday – Thursday: 09:00 – 16:00.

Opening hours may change. For more information, look at the website of the Weizmann Institute
BEER SHEVA
Negev Museum of Art
The most important art museum in southern Israel is located right in the center of Beer Sheva and offers changing exhibitions of contemporary art. Temporary exhibitions, workshops for children and young people and summer performances on the museum's lawns contrast with an intriguing history: the museum is housed in the former official residence of the Turkish governor, which was built in 1906 as one of the magnificent buildings in Beer-Sheva. With the establishment of the State of Israel, the building was repurposed to serve as the first city hall of Beer-Sheva. Tickets are available from 35 NIS.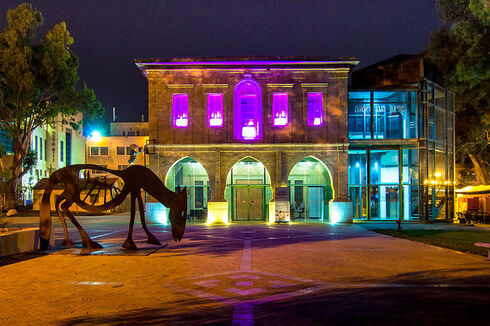 Opening times:
Monday, Tuesday and Thursday: 10:00 – 16:00
Wednesday: 12:00 – 19:00
Friday: 08:30 – 11:00
Saturday: 10:00 – 14:00

Sunday the museum is closed.

Opening hours may change. For more information, take a look at the website of the Negev Musem of Art.
HAIFA
Cable Car
For a special kind of experience try the cable car in Haifa, which is located right near the Bat Galim station and enjoy a breathtaking view of Haifa Bay! The orange Haifa Cable Cars are fabulous both as a means of fast transportation and as an attraction in their own right. At the startinf point on the ground there are a number of interesting sights including the Clandestine Immigration and Navy Museum, with the ships and submarines clearly visible from the cable car, the National Maritime Museum and the Biblical famed Elijah's Cave. Also at the top, in the forested Carmel area, is a monastery called Stella Maris, Latin for "star of the sea". Dating back to Crusader times, the monks originally inhabited the caves on the side of the mountain and were forced to flee by the time of Napoleon, who ruled Haifa in the late 18th century.