Jerusalem Festival of Lights 3-Day Tour
from Tel Aviv or Jerusalem
HIGHLIGHTS
Valid for June 29 – July 1, 2020
3-day Public Transportation Pass
Jerusalem Old City Highlight Tour
Small group – less than 18 people
Jerusalem Festival of Lights
Mahane Yehuda self-guided Tasting Tour
Yad Vashem or Israel Museum Entrance Ticket
Tower of David Light Show
DESCRIPTION
Of course, it only makes sense to start your trip in beautiful Jerusalem. There is lots to see and do in the Israeli capital, but you'll have to agree that the Old City walls, lined with local street vendors, the top museums of Israel and the Instagram-worthy views everywhere just speak to everyone's imagination. Even I, as an Israeli person, can't resist a day, two or three in Jerusalem every once in a while, there is just so much to see and do.
But as you're starting your 3-day trip to Jerusalem, you might be a bit overwhelmed by what to see and do. There's so much to chose from. I'll help you out a little.
DAY 1
One of the best ways to see Jerusalem is from the local perspective. On the first day, we have an authentic Old City small group tour guided by a Jerusalem local. Here you will be taken through the Old City Allys to the Western Wall, Via Dolorosa and the Church of the Holy Sepulchre to name a few sites. In the evening join in with locals and tourists alike to take part in the Jerusalem Festival of Lights. The Old City walls light up with light installations as well as performances and summer festivities.
DAY 2
On day two, there are 2 famous museums in Jerusalem for you to choose from. Yad Vashem Holocaust History Museum which is located adjacent to Mount Hertzl or the Israel Museum where you can relish in Israeli art and see the Dead Sea Scrolls. After visiting the museum we have planned for you an afternoon in the Jerusalem Mahane Yehuda Market. Here is where many locals come to get fresh vegetables, spices, fish, etc. With the included market tasting card, you will get to try local Israeli food and beverage. There is also an audio guide you can download that shares stories and secrets of the market. At the end of the day starting from sundown the Jerusalem Festival of Lights begins and lasts late into the evening.
DAY 3
The last day is all about exploring Jerusalem on your own. Now that you have had 2 days exploring and discovering we are confident you can make your way around and visit the places you haven't seen yet.
What's included
Train
Round-trip Train Ticket for Tel Aviv – Jerusalem
Local transportation
The IsraelRail Rav Kav Card is valid for local buses and the Light Rail in Jerusalem
Jerusalem Old City Guided Group Tour
Experience the magic of Jerusalem with a 4.5 hour guided group tour of the Old City by a local licensed guide. Small group guaranteed – max 18 people
Mahane Yehuda Market Tasting
Taste six local dishes in the famous Jerusalem Mahane Yehuda Market accompanied by the free audio guide (self-guided)
Entrance to Yad Vashem Holocaust History Museum or The Israel Museum
Audio guide available (self-guided)
Entrance to the Night Spectacular Light Show
The story of the city of Jerusalem at the Tower of David Museum
2 Overnights in Jerusalem
Choose from 3 hotels in Downtown Jerusalem. Breakfast included
3 Days
2 Nights
1-18
We offer 3 hotel choices: Basic, Plus, and Boutique
Tip
Feel free to continue exploring on your own at the end of each day!
Meeting Point
Meet your IsraelRail host at the Haganah train station. The host will escort you on the train ride and assist with all the logistics and questions you might have on your first day.

Aim to arrive at Jaffa Gate at 10:20 AM. Your tour guide will be waiting for you and the tour will begin at 10:30 AM.
Dropoff Point
The tour finishes usually within a 5 minute walk from the Jaffa Gate
Itinerary
Start at the Tel-Aviv Hahagana Train Station
Meet a local representative of IsraelRail and collect your travel itinerary packet which includes your itinerary, the IsraelRail card and a map
Arrive at Itzhak Navon Jerusalem Station
Arrive at the Jerusalem Itzhak Navon station after a short 34 minute ride. Exit the station and take the Light Rail towards Heil Ha'avir station
Take the Light Rail to your hotel or hostel
Ride the Light Rail down the famous Jaffa Street to your hotel or hostel, check in and drop off your luggage
Make your way to the Jaffa Gate Entrance to the Old City
Meet your tour guide and small group outside of the Jaffa Gate entrance to the Old City at 10:20 AM! Tour starts at 10:30 AM
Jerusalem Festival of Lights
The Festival takes place in the Old City Jerusalem where its visitors perceive the artworks of the festival by walking through trails in the Old City's Allys, squares and its surroundings. Over the past 11 years, the Internation Festival of Light in Jerusalem has become an inspiring and exciting event that merges light art, sound, the Old City, its inhabitants and hundreds of thousands of visitors into a celebration of art and culture in this very unique place.
Overnight in Jerusalem
Breakfast at your hotel
Enjoy a complimentary breakfast at your hotel
Israel Museum
Visit the Israel Museum or Yad Vashem Holocaust History Museum on your own. Both museums offer an audio guide for your use.
Visit Yad Vashem or Israel Museum
Visit the Yad Vashem Holocaust History Museum or the Israel Museum on your own. Both museums offer an audio guide for your use.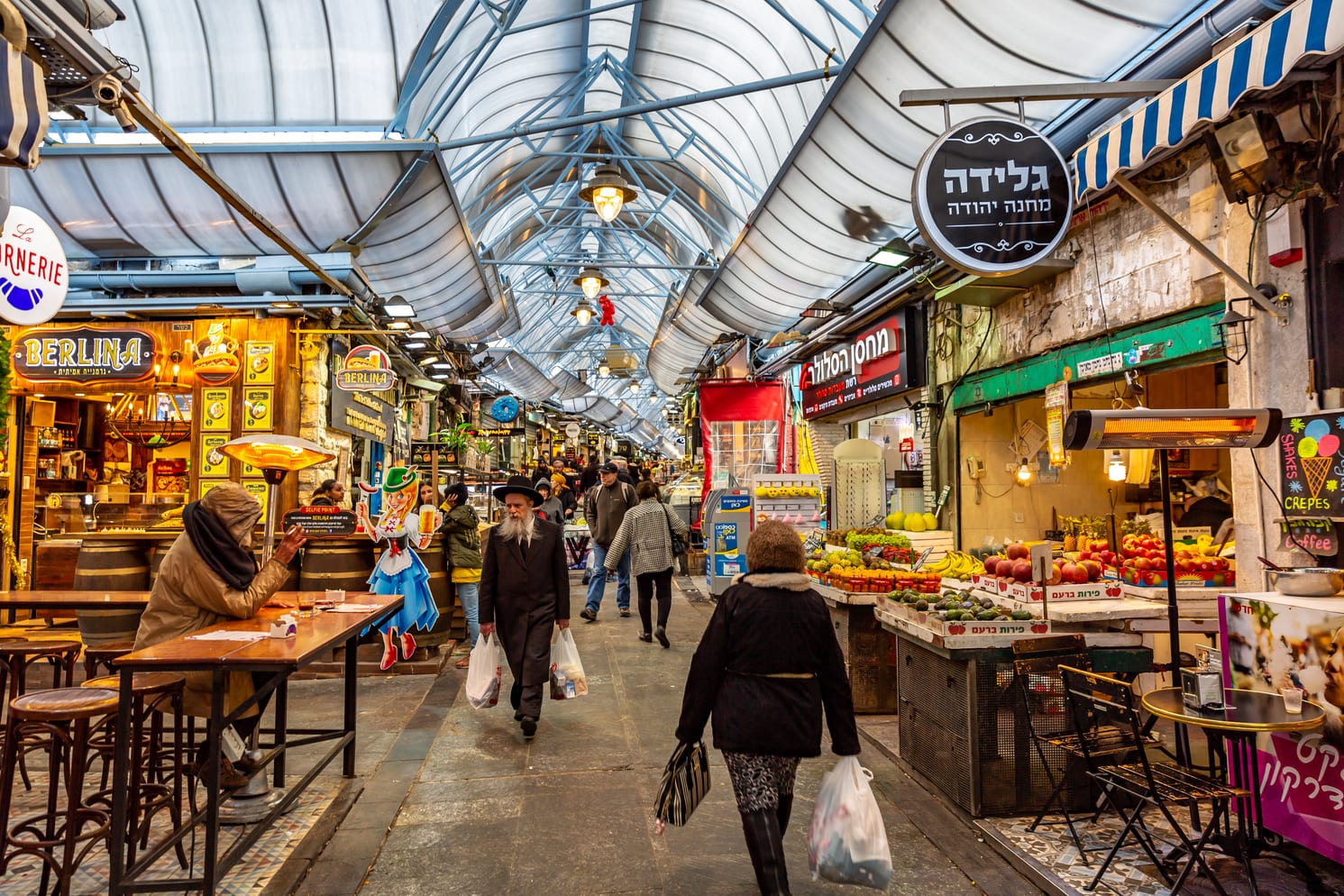 Mahane Yehuda Market Tasting
Enjoy lunch at the Mahane Yehuda Market using the tasting card. Included are 6 tastings both food and drink that represent Israeli local cuisine. 
Tower of David Light Show
The walls of the citadel serve as a backdrop for the night performances and present a celebration of sights and sounds.  Screened among the archeological remains in the Citadel courtyard and to the sounds of original music, the story of the city of Jerusalem – in the Night Spectacular, and the story of King David in the King David show, come to life with breathtaking giant images.
Overnight in Jerusalem
Breakfast at your hotel
Enjoy a complimentary breakfast at your hotel + Check-out @ 12:00, but feel free to leave your luggage with reception. 
Free to Choose Your Jerusalem Day
Choose 1 of the following museums/activities to visit:
Friends of Zion Museum
The Ramparts Walk
Hebrew Music Museum
HaRav Kook House Museum
Museum of Underground Prisoners
Museum on the Seam
Continue exploring Jerusalem on your own
After visiting the museums feel free to discover more of the Old City or other parts of Jerusalem on your own
Heading back to Tel Aviv
The last train leaves from Jerusalem Itzhak Navon Station at 21:30. We recommend leaving arriving 20 minutes early, not to miss the last train!
Arriving back in Tel-Aviv you can exit any station.
ADDITIONAL INFO
Jerusalem Festival of Light
The festival has 3 illuminated routes – red, green and blue. Featuring large installations of artistic illumination, musicians and actors, in an experience of unique and magical light.
Hours of the festival: starting from sundown until late into the evening
---
TRAIN STATION SECURITY CHECKS
Entry to all train stations is subject to a personal baggage check.
Every station entrance is manned by security guards who operate by Israel Police guidelines and are committed to upholding your dignity and safety during the security check.
Please be aware that lines may develop at the security check stations during peak hours in the morning and afternoon/evening (6:00 am-9:00 am and 15:00-19:00), so you must arrive sometime before your train's departure.
This Package is a combination of 1 Guided Tour, Self-Guided Tours and Museums, Free Activities, and Accommodation.
Cancellation Policy
Any cancellation prior to 48 hours of travel date will incur a fee of $10 USD for the refund procedure.
Upon notice 48 hours advance of departure – the trip is non-refundable!