Israel Highlights Plus by Train – 8 Days
From Tel Aviv
HIGHLIGHTS
Get the most out of the 3 different and unique cities!

Discover the North of Israel, including the cities of Haifa and Akko.

Tasting Cards for the Akko and Machane Yehuda Markets.

Guided Tour of the Old City of Jerusalem.

Guided Tour of Bethlehem

Masada and the Dead Sea and overnight at the Judean Desert.

Relax at the beaches of Tel Aviv, explore the vibe and the street food.

Dive into Tel Aviv's vibrant nightlife with our pub crawl.

Travel like a local, sustainable, and with no traffic.
DESCRIPTION
Route: Ben Gurion Airport -> Haifa/Akko -> Jerusalem -> Ein Gedi/Dead Sea -> Tel Aviv -> Ben Gurion Airport
The tour includes Israel's most important sights. By providing you with accommodation, train tickets and some organized activities our package minimizes your preparatory effort. Beyond that, there is a plethora of included activities, that will make your journey an unforgettable experience.

There are some amazing included activities on this tour. Check out the itinerary below to see what we have prepared for you in each city.
What's included
Transportation
All public transportation as described in the itinerary
Overnights
7 overnights including breakfast
1 x Haifa / 2 x Jerusalem / 1 x Ein Gedi / 3 x Tel Aviv 
Category A – Guesthouse Hostels
Category B – Budget Hotels
Category C – Boutique Hotels 
Guided Tours
1 x Guided Group Tour: Jerusalem 
1 x Guided Group Tour: Bethlehem
1 x Masada & Dead Sea – Tour  
1 x Tel Aviv Pub Crawl
1 x Tel Aviv Historical AR Graffiti Tour 
Entrance Tickets
Travel Assitant
First-night personal meet up and online chat while touring
JerusalemRail Digital Guide
JerusalemRail digital guide including 5 self-guided tours, more than 100 POIs and local recommendations. Guide yourself through the holy city!
8 days
7 Nights
1-35
Choose between 3 Hotel categories: Hostel, Budget Hotel or Boutique Hotel.
Tip
Buy an Internet Data package for your smartphone for the period staying!
Meeting Point
Sunday evening at 20:00 we invite you to meet with our IsraelRail Travel Assistance at a local bar in Haifa together with other IsraelRail travelers.
Dropoff Point
Ben Gurion Internation Airport or feel free to extend and continue to explore Israel.
Itinerary
Arrival at Ben Gurion Airport
Train to Haifa
Train from the airport to Haifa (1:10h)
Check in at Hotel in Haifa
Bahai Tempel Visit
Depending on flight arrival time: Join the official Bahai guided tour in English (1-hour) and learn about the Bahai World Center and its spectacular gardens!
Meet up!
20:00 Meet up with all fellow travelers and our IsraelRail Travel Assistant / @local Haifa bar!
Overnight: Haifa
Israeli Breakfast
Train from Haifa to Akko
Public transport to Akko (30min)
Lunchtime at the Market in Akko
Get a taste of Israeli cuisine with our bite card in the old town of Akko.
Haifa and Akko on your own
Discover Haifa and Akko on your own. 
Head to Jerusalem
Train & public transportation from Haifa to Jerusalem (1:55 hour)
Overnight: Jerusalem
Israeli Breakfast
Jerusalem Old City Tour
11:00 – 15:00 Jerusalem Old City- guided Group Tour
Visit the Holy Sepulcher, the Wailing wall, the Muslim Quarter and many other intriguing sights.
Israeli Breakfast
Bethlehem Morning Tour
Discover the town of Bethlehem with our guided tour.
It includes Manger Square, the Nativity Church, and many other sights!
Discover More!
Venture out on your own and visit the Yad Vashem Holocaust Museum (Free entry) or the Israel Museum (Tickets included).
Transfer to Ein Gedi
Organized bus transfer to Ein Gedi 
Counting Stars
Count the incredible number of Stars visible in the Judean Desert. 
Overnight: Ein Gedi
Sunrise in Masada
Experience the beauty of Masada National Park and the ancient fortress in the early morning hours.
Israeli Breakfast
Dead Sea
Float on the salty waters of the Dead Sea.
From the Dead Sea to Be'er Sheva
Drive through the Judean Desert to the capital of the south, Be'er Sheva.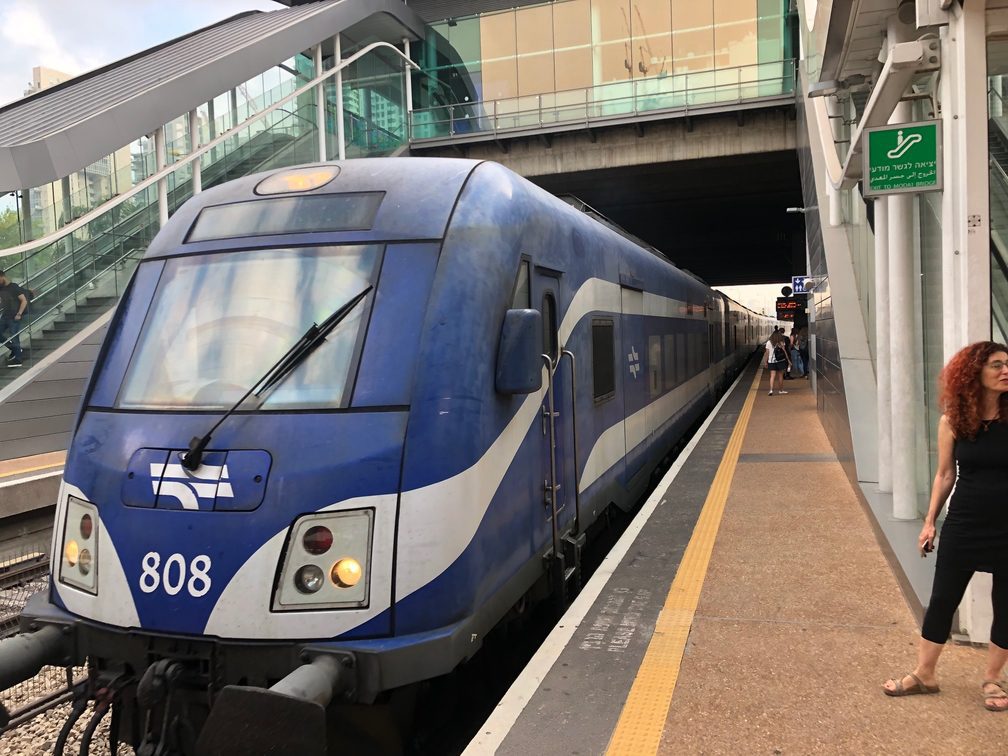 Train to Tel Aviv
Take the train from Be'er Sheva to Tel Aviv (1:05h).
TLV Pub Crawl
Dive into Tel Aviv's vibrant nightlife with our legendary pub crawl!
Overnight: Tel Aviv
Israeli Breakfast
Graffiti Tour
Our historical Graffiti tour takes you to a number of murals that depict historical personalities of the city. Scan the paintings with your phone and watch the images come to life!
Tel Aviv Markets
Stroll the Carmel (streetfood), Nahalat Benjamin (handicraft) and Levinsky Market (spices) on your own.
Overnight Tel Aviv
Israeli Breakfast
Beach Time !
Enjoy the day on one of the 13 beaches in Tel Aviv or in the serene Hayarkon Park.
Overnight: Tel Aviv
Israeli Breakfast
Train to the Ariport
Train transfer from Tel Aviv to Ben Gurion Airport (15min ride)
Say "Lehitraot" to Israel!
Fly back Home!