Tel Aviv Modern Day Tour plus Levinsky Market
From Tel Aviv
HIGHLIGHTS
Stroll down the famous Rothschild Boulevard
Marvel at the impressive White City and its Bauhaus architecture
Take pictures of the Tel Aviv's street art
Walkthrough the beautiful American-German colonies
Experience the famous Neve Tzedek neighborhood
Levinsky Market "Shuk Bites" tasting card
DESCRIPTION
Waking up late from a great night out in Tel Aviv? Or coming from another city? Come join us on this dynamic tour featuring Art, Culture and Food! Start by tasting through the late morning at the Levinsky Market and the famous Florentine area. The Levinsky is a unique local market that sells many spices, nuts, dried fruits, and fusion cuisines. In the afternoon, you will join a group guided tour where you'll be guided through the must-see neighborhoods that Tel Aviv has to offer.
Levinsky Market, taste and explore on your own!
Use the Levinsky Shuk Bites Card to try some local dishes. Taste the abundance of the Levinsky market, at your own time and convenience. NEW! the audio guide will accompany you in the market and reveal a few of its secrets! (smartphone with data service required, and it is recommended to bring headphones)
Modern Tel Aviv Group Tour
While Israel is filled with rich and ancient history, Tel Aviv tells the story of a modern, innovative city – technologically advanced and socially progressive. Discover Tel Aviv's street art, its impressive collection of Bauhaus architecture, and beautiful neighborhoods of the German and American colonies on this 3-hour walking tour.
What's included
Public Transportation
The IsraelRail Rav Kav Card is valid for local buses in Tel Aviv.
Guided Group Tour
3-hour Modern Tel Aviv guided group tour with a local licensed English-speaking guide
Levinsky Market
Taste local food and listen to audio guide background stories.
5.5 hours
1-35
Because the Market closes at 17:00 PM, you'll want to visit the Levinsky Market before the Modern Tel Aviv Tour!
Tip
Download the audio guide to the Levinsky market (QR download code on the tasting card)
Meeting Point
Levinsky Market
Visit the Market on your own – we suggest to start around 11:30 AM
Modern Tel Aviv Group Tour
Aim to arrive at Clock Tower in Old Jaffa at 13:50 PM. Your Sandemans tour guide will be holding a red umbrella and the tour will begin at 14:00 PM.
Dropoff Point
The Modern Tel Aviv Tour ends in the Independence Hall
Itinerary
Start your Day in Tel Aviv
Get your travel itinerary packet at the Tel Aviv Hahagana train station or one of the local hotels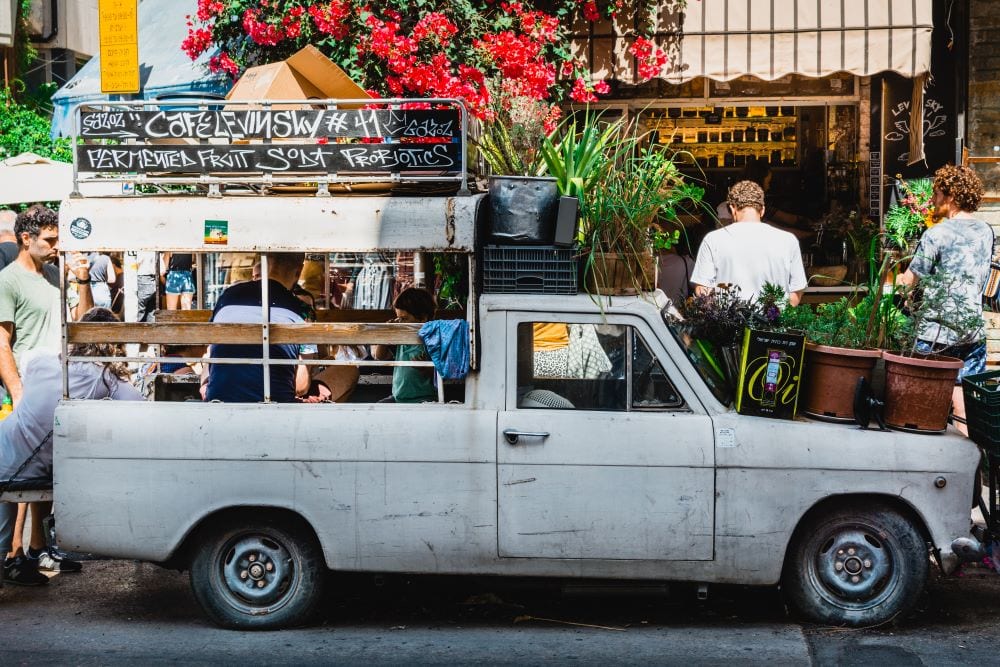 Levinsky Market
Head over to the Levinsky Market to discover and explore
Levinsky Market Tasting Bite Card
While in the market listen to the audio guide and start tasting some of the local food. Please bring headphones to listen to the audio guide from your mobile phone.
Guided Group Tour
Discover Tel Aviv's streets and stories on this 3-hour walking tour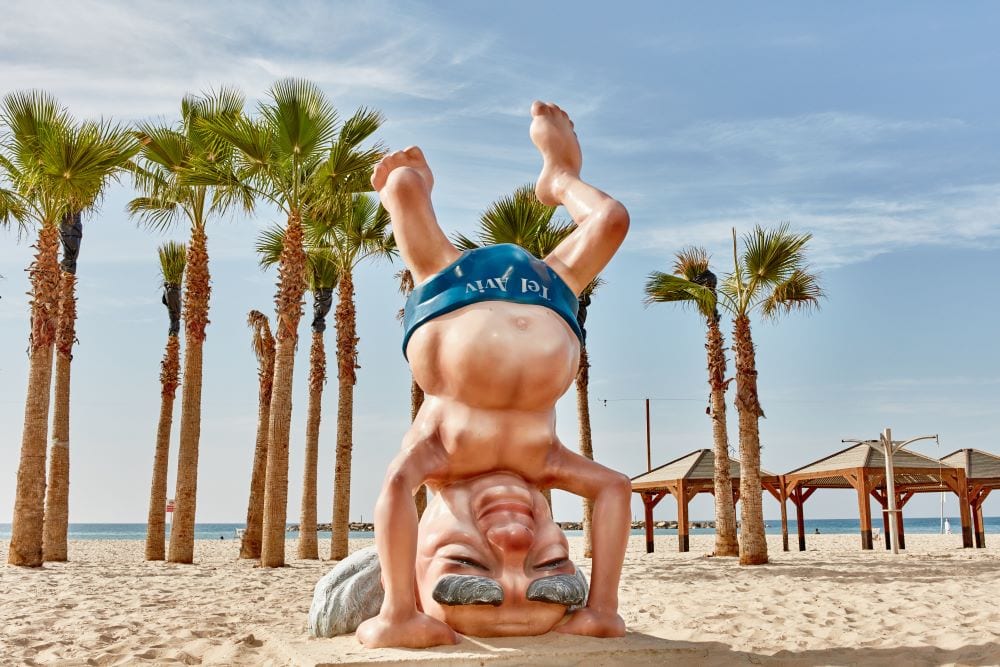 Continue Exploring on your Own
Feel free to continue exploring Tel Aviv on your own or just simply enjoy a beautiful sunset at the beach
ADDITIONAL INFO
Levinsky Market – TASTING CARD
A self-guided tour in the market can be done at your own time
and pace. Each card includes 4 different tastings in the Levinsky market.
Hours of the Market: 09: 00-17:00 PM
*Closed according to holidays and festivals, please check in advance
The Market Tasting Card allows for 4 tastings in the vibrant market:
1. A taste of delicacies-olives, artichoke, mushroom, stuffed vine leaves, seasoned feta & pepper stuffed with cream cheese or half a pita with falafel and a drink
2. Turkish bourekas served with egg, pickles, and tomato puree
3. Freshly squeezed juice or Malabi
4. Mini boutique cupcake or a taste of halva/likum/ma'amoul cookie or herbal tea
---
What to Bring
Please remember to wear comfortable shoes for walking and bring a hat to protect against the sun & drink lots of water in the summer months.
Cancellation Policy
Any cancellation prior to 48 hours of travel date will incur a fee of $10 USD for the refund procedure.
Upon notice 48 hours advance of departure – the trip is non-refundable!
Unfortunately, the guided tour is not wheelchair accessible.