Jerusalem Private Day Trip by Rail
from Tel Aviv
HIGHLIGHTS
Private guided walking tour of Jerusalem's old city.
Start the tour with a view from the Tower of David.
Explore all four quarters of the old city – Armenian, Jewish, Christian & Muslim.
See the Western Wall and Holy Sepulchre.
Visit Mt. Zion, the Room of the Last Supper and King David's Tomb.
Complete your day with something sweet at Machane Yehuda market.
We offer flexible times and program.
DESCRIPTION
On this privately guided tour you have the opportunity to get to know the holy city in detail. Our guide will meet you at your accommodation in Tel Aviv. Together you travel about 35 minutes by train to Jerusalem. The guide takes care of all logistical and organizational matters.
We start with a view from the Tower of David and then make our way through the old town.
In the afternoon your guide takes you to the famous Machane Yehuda Market. Here you can try something sweet.
Our private tours offer maximum flexibility: The tour and schedule can be changed according to your needs and interests!
What's included
Train
Roundtrip ticket Tel Aviv – Jerusalem – Tel Aviv
Pick up from your hotel in Tel Aviv is included.
Guided Private Tour
Fully guided walking tour.
Local transportation
The IsraelRail Rav Kav Card is valid for local buses, trains and the Light Rail in Jerusalem.
Market Tasting
Taste something sweet at Machane Yehuda market with your guide.
Tower of David
Entry ticket to the Tower of David.
8-10 hours
1-9
Availability
Eng, De, Rus, Fra, It, Spa
Eng, De, Rus, Fra, It, Spa
Eng, De, Rus, Fra, It, Spa
Eng, De, Rus, Fra, It, Spa
Eng, De, Rus, Fra, It, Spa
The train back to Tel Aviv runs every half hour between Sunday and Thursday.
The last trains are at 21:00 and 21:30. No trains are available on Friday, Shabbat, and holidays evenings.
Tip
Meet up early with your guide, to make the most out of this amazing trip!
Meeting Point
Your Accommodation/Hotel
Dropoff Point
Your Accommodation/Hotel
Itinerary
Meet your Guide!
Meet your Guide at your Hotel in Tel Aviv. He will bring your train tickets and take you to the next local train station by public transport.
Train to Jerusalem
You hop on the train in Tel Aviv and arrive at the Jerusalem Itzhak Navon station after a short 35 min ride. Your guide will then proceed with you on the light rail towards the old city.
Jerusalem Private Tour
Visit the Tower of David and the Old City with your guide. Ask him questions about all the sights and areas you are visiting.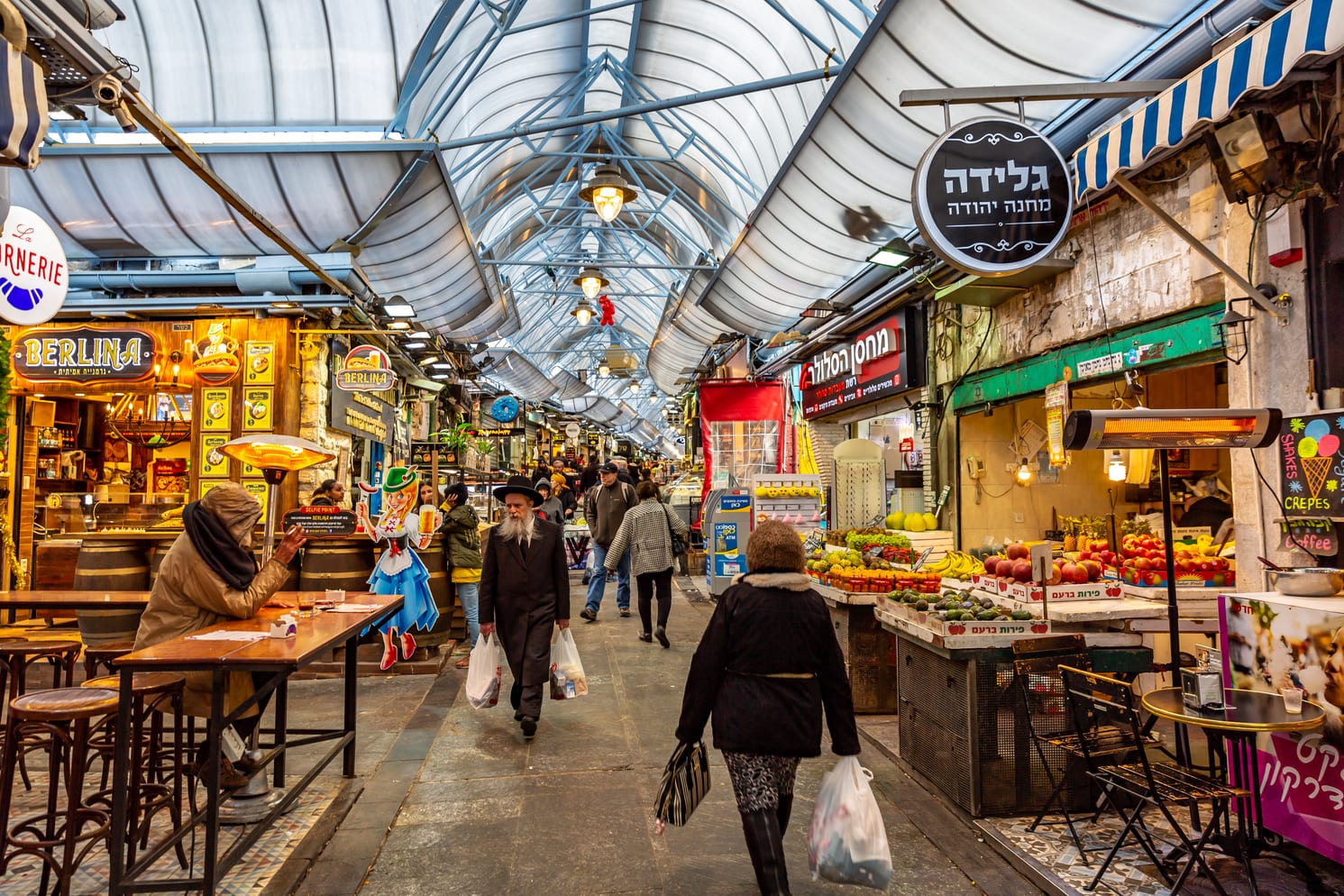 Mahane Yehuda Market Tasting
Head to Machane Yehuda Market, where a culinary experience is waiting for you: Try something sweet with your guide!
Take the train back to Tel Aviv
Once your tour is finished you have the choice: The guide can take you back to the train station in Jerusalem or you extend your stay in Jerusalem and take the train home later on.
ADDITIONAL INFO
Visiting the Holy Sites
The dress code when visiting the holy sites in Jerusalem is full-length pants or a skirt that covers the ankles and sleeves covering your shoulders. The following items are prohibited on the Temple Mount: Religious objects or political items of any kind, weapons, alcohol, iPads/tablets/eReaders, laptops, selfie-sticks, and tripods.
Train Station Security Checks
Entry to all train stations is subject to a personal baggage check.
Every station entrance is manned by security guards who operate in accordance with Israel Police guidelines and are committed to upholding your dignity and safety during the security check.
Please be aware that lines may develop at the security check stations during peak hours in the morning and afternoon/evening (6:00am-9:00am and 15:00-19:00), so it is important that you arrive sometime prior to your train's departure.
Heading to Jerusalem for the day before your flight from Ben Gurion International Airport? Take the train from Tel Aviv and leave your luggage in the lockers at the Itzhak Navon station in Jerusalem.
In cooperation with: Israel Railways