Israel Wonderer Tour – 10 Days
From Tel Aviv
HIGHLIGHTS
10 Day Wonderer Travel Pass
Day trip to Akko
Guided Tour in Jerusalem
Exploring the ancient sight Masada
Hiking in the Ein Gedi Desert
Swimming in the Dead Sea
Authentic Food Tastings at three markets
Entry to two museums
Weekend in Tel Aviv
Day trip to the national park Caesarea
Self-guided, stress free and sustainable traveling like a local
DESCRIPTION
This 10 Day Tour includes the most important sights of Israel and introduces you to the three main cities Haifa, Jerusalem, and Tel Aviv. Explore many other sides of the country and wonder about Israels divers culture, culinary offer and wander to three different national parks and the desert.
Add optional organized tours to your package, relax or venture out on your own. You decide how packed your schedule is. Guide yourself through the trip but always relay on our permanent travel support.
To make this experience as suitable for you as possible please choose your preferred level of accommodation.
What's included
Travel Pass
Don't worry about an extra organizational effort! Get your travel pass at the airport and get ready for a stress-free trip. We got you!
Simcard: Unlimited Talk & Text within Israel, landline calls to 40 counties, 100 GB Data
Fully charged Transportation Rav Kav Card for 10 days
The Israel Pass
Entrance to 3 national parks
Reusable Bag
Tasting Cards for three different markets
Voucher for the Israel Museum and the Museum of Modern Art
Tours
Self-guided Tour in the city of Akko
4 hour Guided Group Tour in the Old City of Jerusalem
Self-guided Day Tour to Masada and the Dead Sea
Travel Assistant
We don´t leave you hanging! Chat with us during your travels.
JerusalemRail Digital Guide
Guide yourself through Jerusalem with our POP- Guide App and get inspired by more than 100 points of interests. Learn more about historic sights and check out some of our favorite cafés and restaurants.
10 Days
9 Nights
Independent Traveler
Availability
✓ Please notice that the public transportation is not running between 2:00 pm on Fridays until approximately 20:00 pm on Saturday due to Sabbat. Taxis or Gett are available any time.
Choose between 3 Hotel categories: Hostel, Budget Hotel or Boutique Hotel.
Tip
To make your wondering experience even more authentic go to the Westbank or join a tour to Bethlehem.
Meeting Point
Ben Gurion Airport
Dropoff Point
Ben Gurion International Airport or feel free to extent and continue to explore Israel.
Itinerary
Arrival at Ben Gurion Airport
Welcome to Israel. Your travel pass is waiting for you at the Simcard Store 019. Get ready for your journey.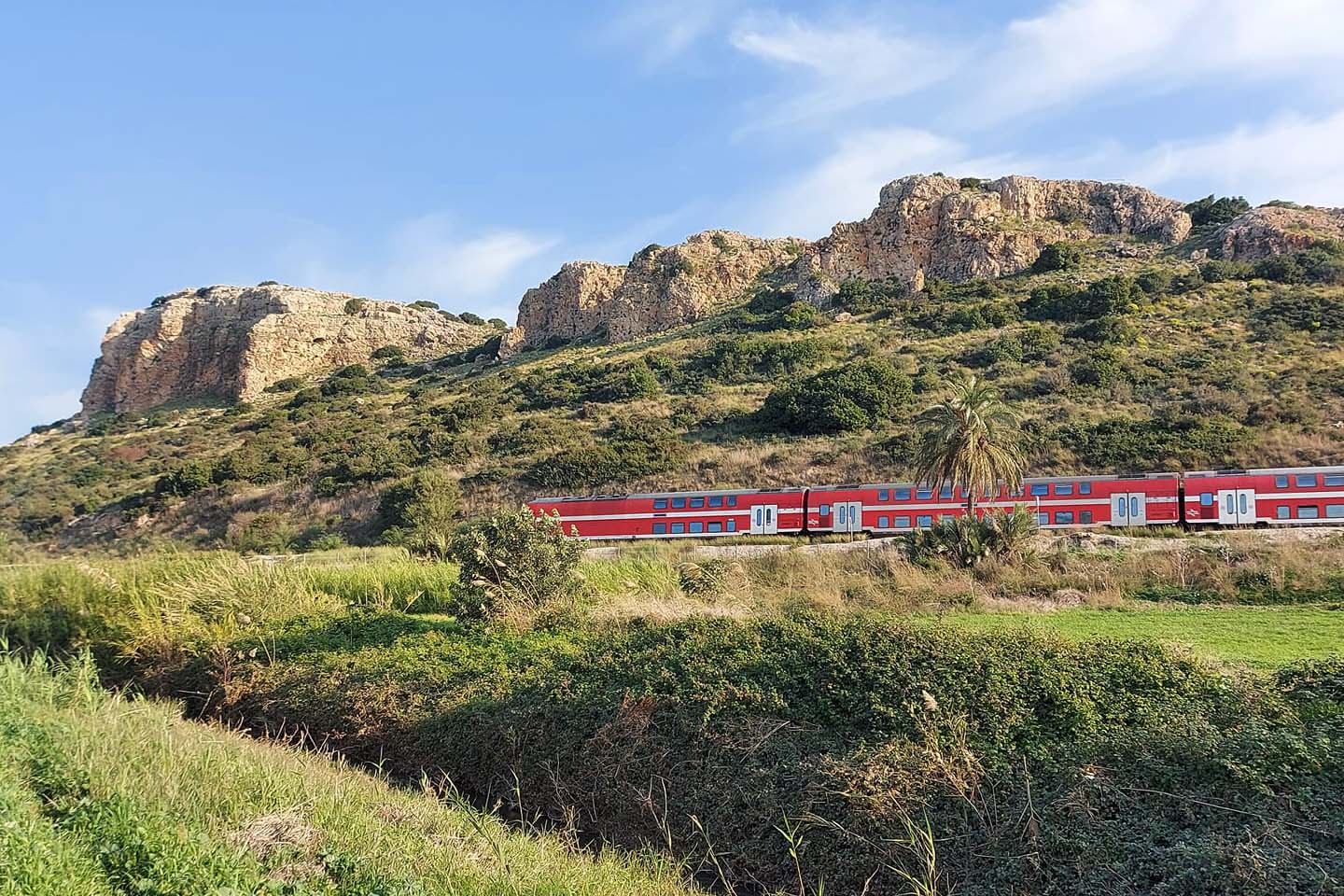 Train to Haifa
Transfer on your own by train from Ben Gurion Airport to Haifa.
Check-In at Hotel
Check in at your accommodation and get settled in.
Bahai Temple Visit
Depending on the time of your arrival: Join the official 1-jour Bahai Guided Tour or discover the Gardens on our own! The view is amazing and its a perfect spot to enjoy the sunset.
Dinner
Enjoy your first authentic Israeli meal in one of many great restaurants in Haifa.
Overnight at Haifa
Israeli Breakfast
Enjoy your first authentic Israeli Breakfast.
Train to Akko
Take the train to Akko where you are going to spend the day.
Self-guided tour
Find your way to the Acre Visitor Center. Here you will get the tickets for the sights that are included in the 5-Museum-Combiticket:
Hospitaller Citadel (Knights' Halls)
Turkish Bath
Templar Tunnels
Okashi Museum
Treasures in the Walls Museum
Food tasting
Enjoy lunch at the Old Akko Market. Taste the variety of different authentic food.
Free time
You can either spend the afternoon in Akko or take back the train to Haifa so you get to see more sights there.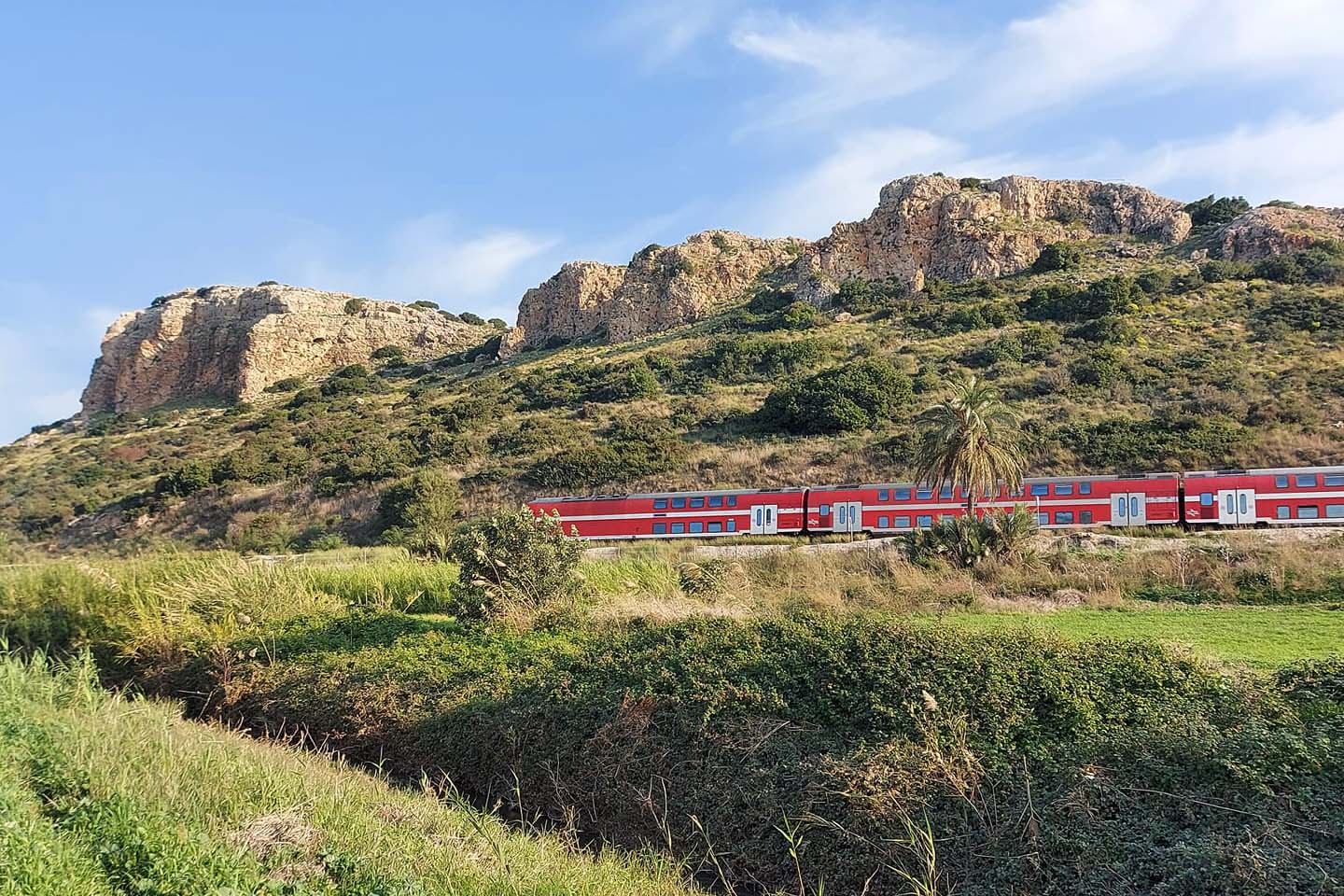 Train back to Haifa
Time to get back to Haifa.
Mount Carmel
We recommend you to visit the beautiful Stella Maris Monastary and enjoy the view of Haifa from the top of Mount Carmel. Take the cable car down Mount Carmel and enjoy the view of the Haifa bay area. The ride is about 5 minutes and costs 25 NIS. The sight is open open until 6 pm.
Overnight at Haifa
Enjoy you last night in Haifa.
Israeli Breakfast
Enjoy the authentic Israeli Breakfast at your accommodation.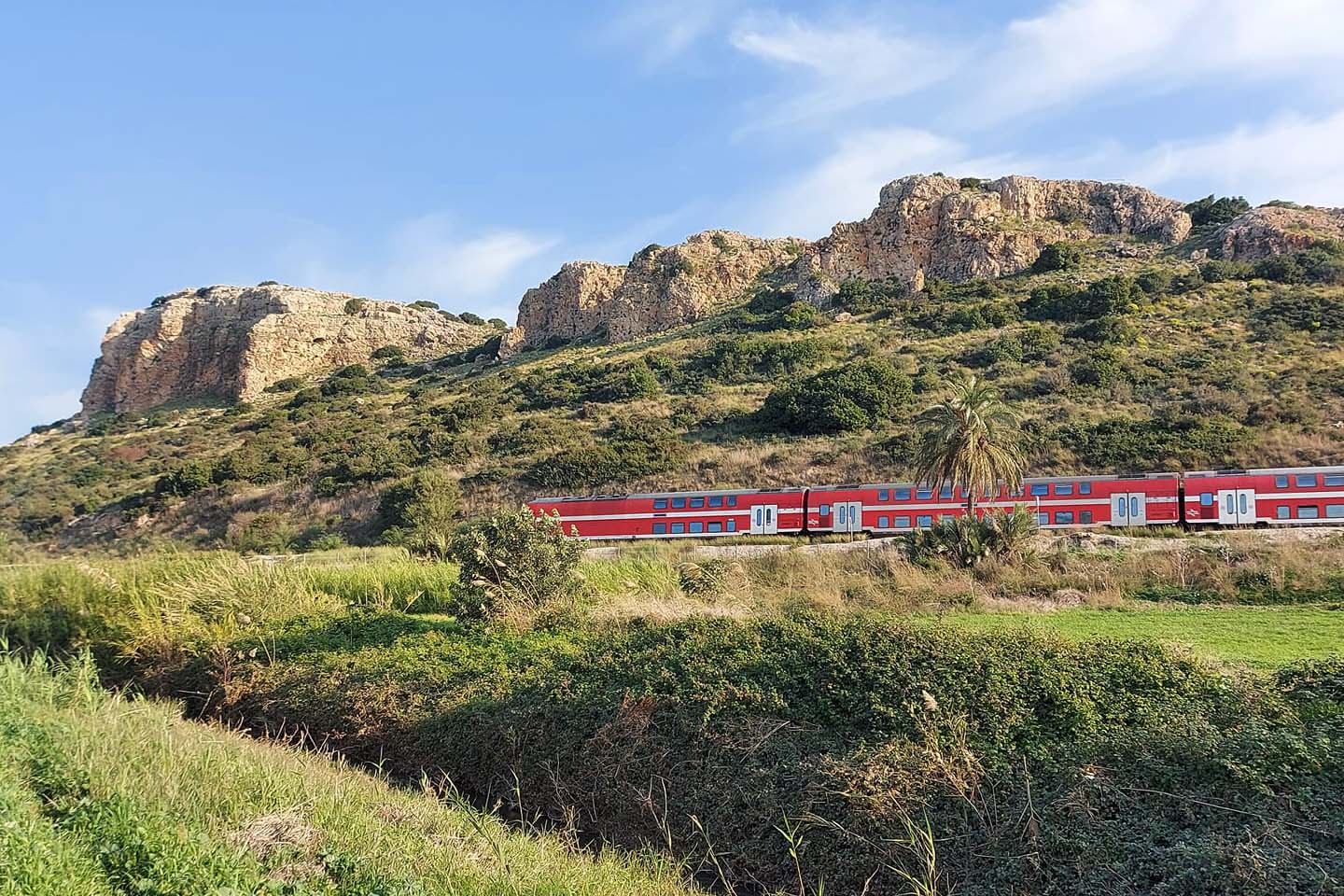 Train to Jerusalem
Take the train to Jerusalem. In only 2 hours you will be in the Holy City.
Check-In at hotel
Check in at your accommodation.
Explore Jerusalem
Discover Jerusalem with our App! Guide yourself through the holy city! Unlimited tram rides, inside tips, self-guided tours and audio-guides included.
Yehuda Market
Take a stroll to the famous Yehuda Market and enjoy your second food tasting to have the perfect authentic start for your stay in Jerusalem.
Israel Museum
Learn more about the history of the Land of Israel, admire impressive art and dive into the religious and secular material culture of Jewish communities worldwide. Make sure to calculate enough time for your visit – there is a a lot to see and the museum is open util 21:00!
Israeli Breakfast
Enjoy your breakfast at the hotel.
Jerusalem Old City Tour
Find your way to the Jaffa Gate. From there the Jerusalem Old City guided Group Tour will start. The 4 hour has a break and you will stop at a local food place for lunch.
Explore Jerusalem with your App
Curious to see more? Let yourself guide through the city with your app. After strolling around you can also check out some of the listed restaurants and cafés.
Dinner
Make yourself a nice evening in Jerusalem.
Israeli Breakfast
Enjoy the breakfast at your accommodation.
Pick-Up
Meet the driver for the tour to Masada at the pick-up location.
Masada
Take the cable car to the top of the Masada Fortress. Enjoy the amazing view over the Masada National Park!
Ein Gedi Oasis
Hike in the national park Ein Gedi and explore the desert.
Dead Sea
Relax and float in salty water of the Dead Sea after hiking in the Ein Gedi desert.
Free time
You will be back in Jerusalem in the early evening. Enjoy your last night in Jerusalem.
Israeli Breakfast
Enjoy the breakfast at your accommodation.
Yad VaShem
The Holocaust Memorial Museum Yad Vashem is one of the most important sights in Israel and kind of a "cultural obligatory" visit. The entrance is free. It might be a last moving experience before going to Tel Aviv for the weekend.
Train to TLV
Take the train to Tel Aviv whenever you are ready for your last stop in Israel.
Check-In at Hotel
Explore TLV
Spend the afternoon in Israel according to your own taste: Relax at a cafe in Florentin, discover the old city of Jaffa, or just hang out on the beach.
TLV Nightlife
Time to dive into Tel Avivs legendary nightlife. Enjoy your first night in the most vivid city!
Israeli Breakfast
Shabbat Shalom! Enjoy the Breakfast at your hotel after your night out.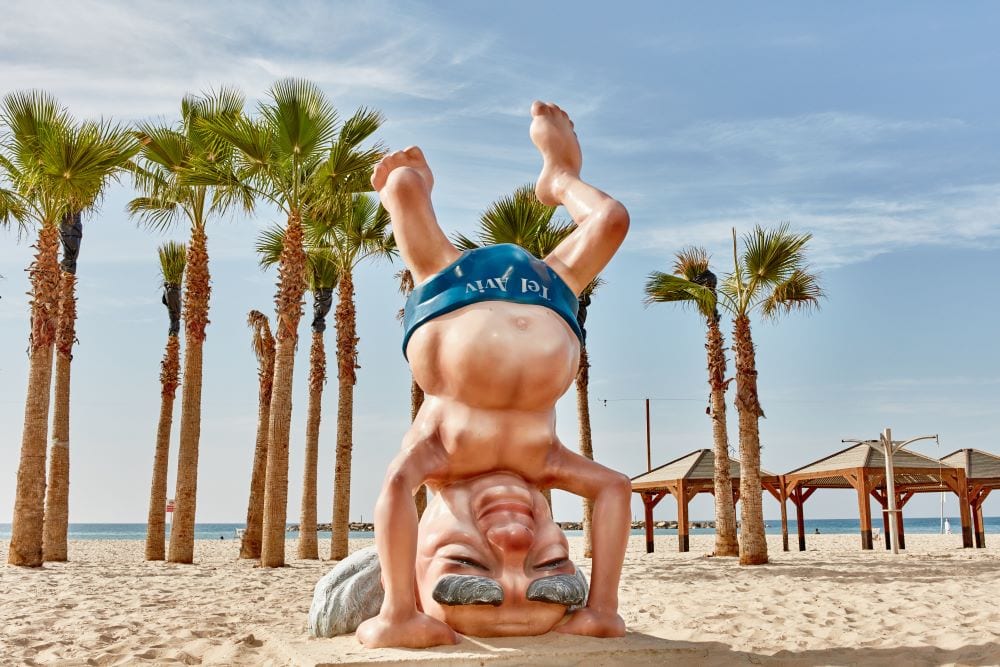 Day off
Your are supposed to rest of the 7th day. But please feel free to design the Shabbat according to your taste. Spend the day at the beach, go to the museum oder check out some of the suggested tours below. It's your day off – do something with it!
Shabbat Meal
Enjoy you shabbat meal and treat yourself for a glass of the holy wine.
Israeli Breakfast
Good morning, enjoy your meal.
Train to Caesarea National Park
Take the train to Caesarea national park which is located between Tel Aviv and Haifa.
Spend the day at Caesarea
Spend the day at the beautiful Caesarea national park. It is probably the most important archaeological site on Israel's Mediterranean coast and you can explore a lot there.
Train Back to TLV
Take the train or bus back whenever you feel like having explored enough.
Dinner
Dinner time. Why don't you check out some of our favorite food places in Tel Aviv?
Overnight in Tel Aviv
Israeli Breakfast
Museum of Art
Need more cultural input? Time to visit the Tel Aviv Museum of Art and spend the afternoon by admiring some really spectacular pieces of art. If you want to dive deeper into Tel Avivs art scene here are some more recommendations.
Carmel Market
Have your last food tasting at the famous Carmel Market. The vibe of the market is really unique and worth a visit.
Sunset
Treat yourself for a drink at one of the beach bars and enjoy a magnificent last sunset. It's really worth it!
Bar hopping
Monday night at a bar? No problem in the city that never sleeps! Enjoy your last evening in Israel.
Israeli Breakfast
Enjoy your last Israeli breakfast.
Flea Market in Old Jaffa
Still need a souvenir to bring home? Why don't you check out some of the other charming markets?  Wandering through Jaffa flea market (Shuk HaPishPushim) will for sure be a memorable experience.
Train to the Airport
It's slowly coming to an end. Take the train to the Airport.
Fly back home
Time to say "Lehitraot" to Israel! See you soon!